Inspire timber home improvement products are a luxurious addition to your home, exuding classic charm whilst providing  all the energy efficiency and security benefits of modern timber windows, doors and conservatories.
Every product is designed with durability in mind so whichever look you go for you can be confident it will stand the test of time.
The Inspire timber range is suited to every type of property, from townhouse to modern apartment. This brochure showcases the range of styles, colours and hardware options on offer to help you find the perfect look for your home that fits in with your individual tastes too.
All timber used for the Inspire range is responsibly sourced from renewable forests, helping to protect the world's natural resources.
Choose from Accoya, Sapele, European Oak or European Redwood, depending on the product, with each species adding its own character to your new windows, doors or
conservatory.
With the correct maintenance, finished Inspire timber home improvement products will last up to 50 years without needing to be replaced.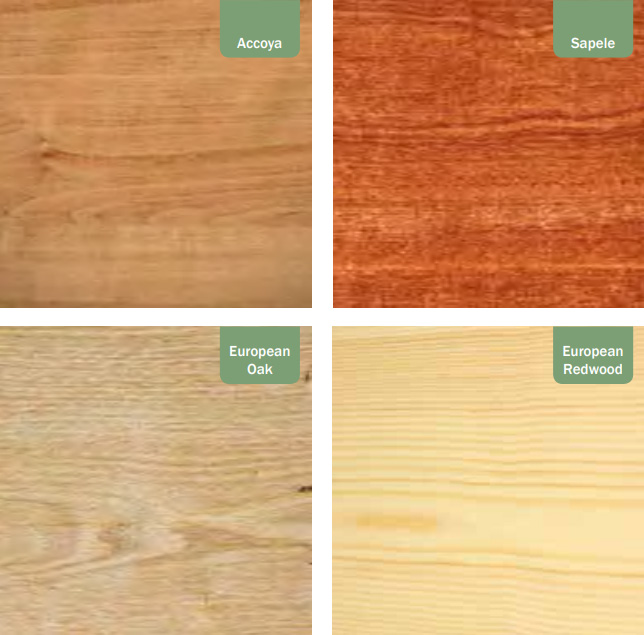 Accoya
Accoya is a high performance, modified timber made from sustainably sourced softwood. Its durability is labelled as 'Class 1', the highest level of durability for timber.
Sapele
A common hardwood sourced from West Africa and the Cameroon, Sapele achieves a 'Class 3' durability classification, making it 'moderately durable'.
European Oak
European Oak features an attractive grain and we source this through an FSC (Forest Stewardship Council) This species has a 'Class 2' durability classification.
European Redwood
Sourced as engineered laminated stock to improve durability, this species is a cost effective option for stylish new Inspire timber windows and doors.
Inspire Durability by Design & Finishing process
To ensure you're getting the best products for your home, the timber Inspire range is designed with sustainability and durability in mind.
Research into high technology timbers, new timber finishing products, and modern manufacturing techniques means your new windows, doors or conservatory will require less maintenance and perform better for longer.
A drained and ventilated glazing system featuring a 7 degree slope to the bottom rebate is incorporated into the design of the externally beaded "Inspire" Timber Windows and Doorsets (excluding Georgian Bar and some bespoke designs eg. Shapes).
This Design Feature is critical to the "Durability" and long term performance of the product giving added protection against rot and premature failure of the Double Glazed Unit. Products are factory finished in a range of high performance microporous colours and stains
Inspire timber windows are an ideal replacement for double glazed PVCu windows if you want a more traditional look.
They can also replace original single glazed timber windows to help improve the energy efficiency of your home.
Maintain the classic appearance of your home with traditional sliding sash styles or opt for a casement style for a cleaner, more contemporary look which still has all the aesthetic appeal of a real timber window
Not only do our new windows look absolutely stunning, they require much less maintenance and have helped reduce our energy consumption.
Inspire Stormproof Casement Windows
Stormproof windows are designed for areas with harsher environments where extra protection against the elements is needed. The classic design of Inspire timber Stormproof windows never goes out of fashion, giving you an attractive replacement window which will also help weather-proof your home.
Inspire Stormproof casement windows can be matched to your existing windows or feature unique details for a stand-out look. A range of cill, frame thickness, sash options and hardware are available, for a truly bespoke look that suits all types of property.
Inspire timber Stormproof casement windows can be finished in an opaque colour or translucent stain, both of which are moisture resistant to give your windows further protection from the elements
Available in the following wood options
Accoya | Sapele | European Oak | European Redwood
Inspire
Flush Casement Windows
Inspire timber flush casements give you a traditional look with a fuss free finish and are ideal for conservation projects where this style is a staple feature of period properties. Inspire flush sash windows replicate the original but are designed with a range of innovative features for modern window performance.
Casement is one of the most versatile styles of window. Windows can be top hung, bottom hung or a combination of these. You can even create bay and bow styles which are popular in older properties.
To complete an authentic period flush sash window look, there are a range of colours to choose from for an original painted timber window look, along with traditional style hardware in a variety of finishes.
Available in the following wood options
Accoya | Sapele | European Oak | European Redwood