Elegant architecture in aluminium and PVC, that you really can look up to.
Every part of the RL1 and RL2, has been designed to be beautiful to look at, slimline and strong with maximum durability built in. Every profile is square-cut manufactured from thermally broken aluminium there are not any plastic or timber parts in use. This means yo have to paint or replace anything rotten or discolouring in due course.
This contemporary slimline aluminium Roof Lantern, can be configured with only 4 glass panes for smaller sizes, to let the light flood in. Larger Roof Lanterns require additional panes and roof spars.  Intelligent, clever product design plus state of the art technical thermally enhanced glazing makes RL1 and RL2 slim, modern and warm. Our roof lantern has been designed to be uniquely fitter friendly and can be installed easily and very quickly. Smaller sizes can be delivered fully assembled for ease of installation.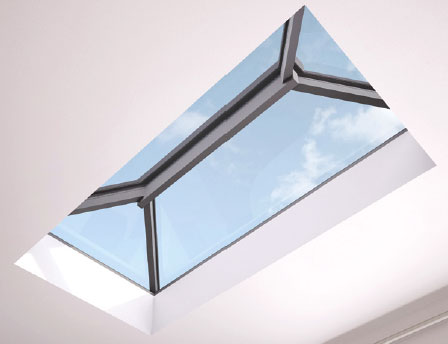 ROOF LANTERNS
An all-aluminium structural solution, that delivers outstanding thermal performance and is one of the most attractive and contemporary Lanterns available.
Slimline, square cut box section rafters are fully thermally broken, providing both clean lines and outstanding performance through the winter months.
Modern and slim, not bulky or old fashioned, with clean clear sight lines.