Why choose an ultimate composite door
Choosing a door for your home is a very important and difficult decision, particularly given the number of options available.
You need to know you are choosing the right door for your home, a door that is as secure as it is stylish and that is designed to stand the test of time.
The Ultimate 70mm dual rebate composite door has been developed to the highest of standards, using the very best materials to ensure you get everything you are looking for and more.
Stunning Aesthetics
Ultimate doors are available in various door styles and a wide range of colours. Furthermore, there are a number of triple glazed laminated glass designs to choose from to truly personalise your door. Adding in the low maintenance and durability that comes with choosing a GRP composite door makes the Ultimate 70mm composite door a very appealing option.
Enhanced Security
Ultimate doors feature a multipoint locking system and high security hinges that combine to protect your door against unlawful intrusion. The triple glazed unit provides additional protection with 6.8mm laminated glass and 4mm toughened glass either side of the clear/decorative centre pane.
Why choose an ultimate composite door
Impressive Kerb Appeal
The woodgrain finish on an Ultimate composite door is developed from oak tree grain, creating a beautiful authentic appearance. You'll find the same woodgrain effect, moulding design and exact colour match on the slim glazing cassette too, giving a seamless and elegant finish.
Superb Thermal Efficiency
When it comes to energy efficiency, the Ultimate 70mm composite door is a smart choice, proven in independent testing to be substantially more thermally efficient than traditional timber doors and timber core composite doors. See page 4 for more information.
Ultimate Weatherproofing
Ultimate doors are dual rebated, providing an additional seal and increased weatherproofing. Water resistant polymer composite rails protect its core and help to repel water absorption which otherwise could lead to delamination of the GRP skin and cause functional problems often associated with lower quality products. Your Ultimate dual rebate 70mm composite door will keep the weather at bay and provide longer lasting protection.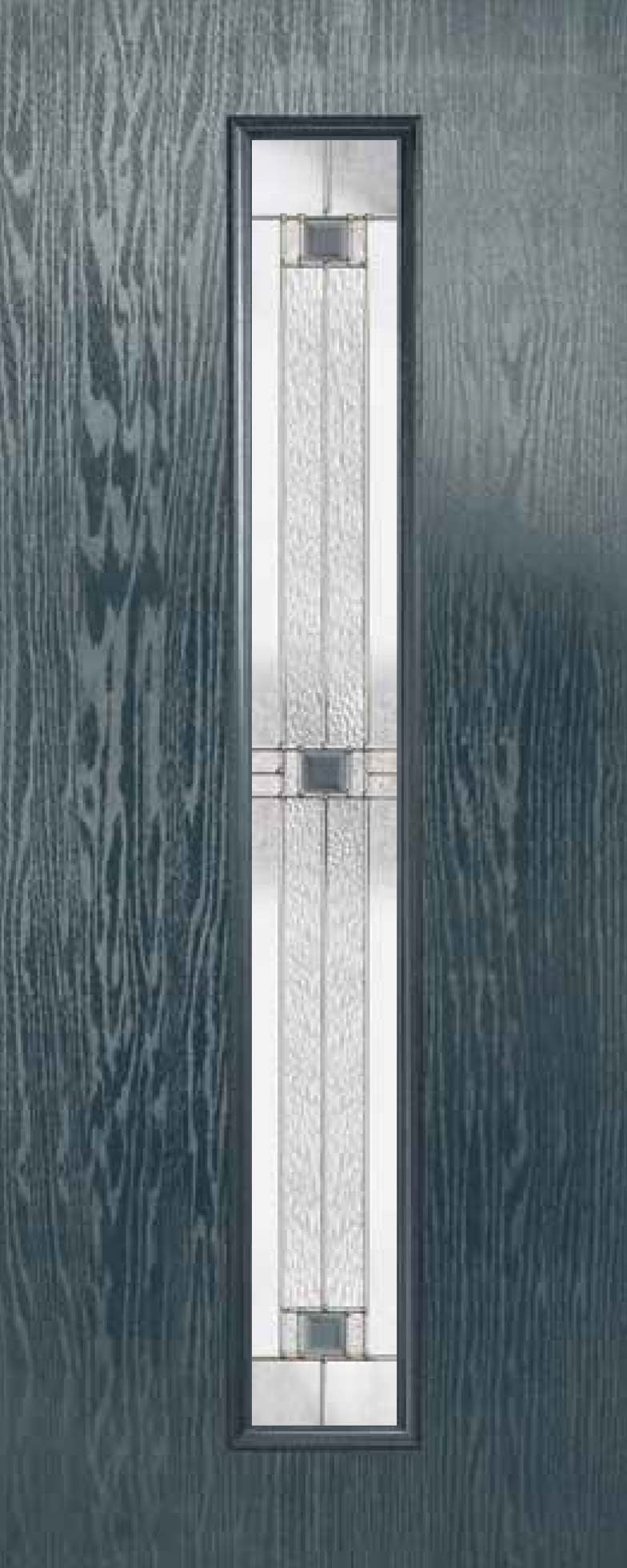 Ultimate Energy Efficiency
We all worry about how much energy our homes use. The rising cost of our energy bills and our impact on the environment mean we want to keep our consumption to a minimum.
One of the best ways to do this is to choose thermally efficient products that keep warmth in and cold out, saving money and emissions.
When it comes to thermally efficient doors, Ultimate 70mm dual rebate composite doors are one of the best choices you can make.
The Ultimate dual rebate composite door is more energy efficient than a traditional timber door or a solid timber core composite door as illustrated on the thermal images shown right.
Photographs show the thermal efficiency of each of the doors we tested. The darker the blue, the less heat is being lost. Reds and greens, the predominant colours on the timber door indicates high heat loss.
Traditional timber panelled door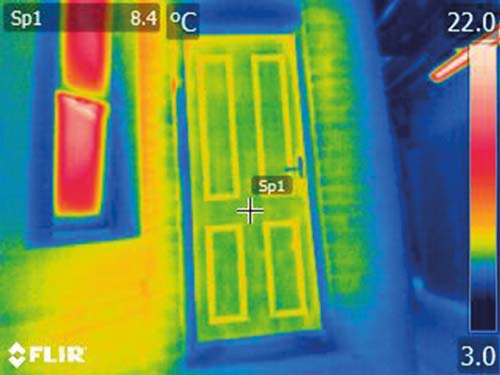 Solid timber core composite door
The Ultimate 70mm dual rebate composite door
ENERGY EFFICIENT
37% MORE THERMALLY EFFICIENT THAN A TIMBER PANELED DOOR
For your security, all Ultimate doors are fitted with a robust multipoint lock.
Simply by lifting the handle upwards, all locking features are engaged.
To prevent cylinder manipulation, Ultimate entrance doors are fitted with a high security cylinder. And for your convenience, the doors are supplied with 3 keys as standard.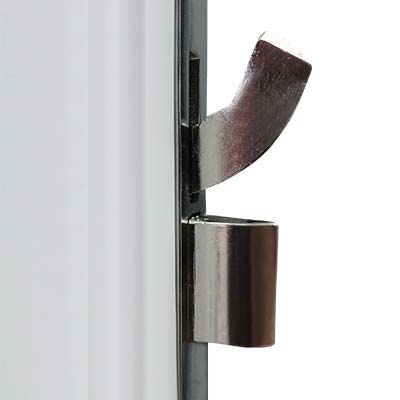 Hooks & Dead Locks
Outer/inner facing hook locks and dead locks provide strength and security.
Compression Rollers
Ultimate doors include roller cams to ensure a tight seal.
Hinges
3 high security, anti-lift hinges. Multiple colour options.
Townhouse Lock Option
As an alternative to the standard locking system, you may want to consider our townhouse lock option.
The townhouse lock is completed with a traditional escutcheon finger pull, available in White, Black, hardex chrome, hardex Gold, hardex Bronze, hardex Graphite (shown above) and Antique Black.
This option also includes the high security cylinder as detailed above.
Stunning Aesthetics
Choose from our varied colour range
Please Note:- contemporary collection doors are not available in standard Black, Red, Blue or Green.
Decorative Glass options
Your choice of decorative laminated glazing panels is the perfect finishing touch and a beautiful focal point.
Each design perfectly complements our door styles and creates a stylish finish. All have slim sightlines to maximise light transmission and their frame uses the same moulding design and woodgrain effect as the rest of the door for a sophisticated and seamless finish.
Each glass unit is 50mm in thickness and all of the designs are triple glazed, so the delicate decorative panel is encapsulated between two clear panes.
Kara
decorative triple glazing featuring glue chip backing glass with clear bevels and brass or zinc caming.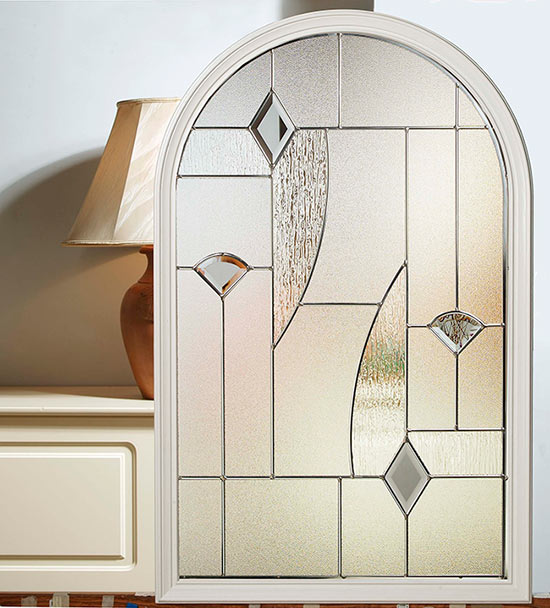 Monza
decorative triple glazing featuring grey bevels and textured glass.
Aspen
decorative triple glazing featuring grey bevels and textured glass.
Edwardian
decorative triple glazing featuring various coloured and textured glass.
Obscure Glass Options
You may prefer not to have one of the above decorative glass options and instead choose either clear glass or one of the 4 obscure glass options shown right. These will also be 50mm triple glazed units to the same specification shown above, but with the middle pane either clear or in the obscure pattern of your choice.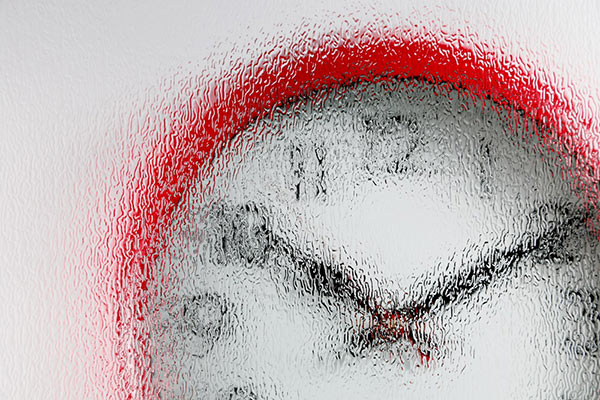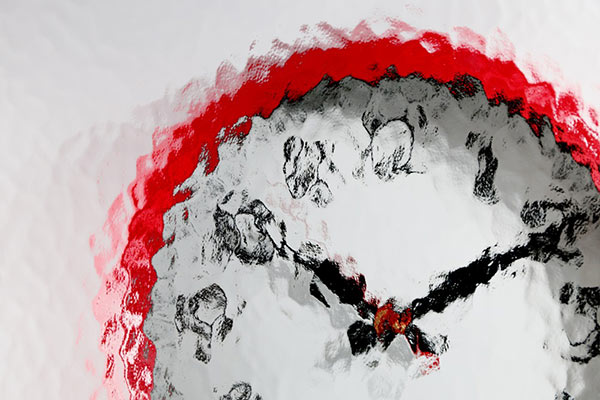 In order to cater for the diverse mix of property styles and consumer preferences, windows and doors are now available in a wide variety of styles and finishes.
Using a combination of top openers, side openers and fixed panes, the range of styles is immense so you are sure to find a design to suit your home.
Similarly, there is no reason to compromise when replacing bay windows. Not all bay windows are the same, some require load bearing support. The Ultimate Collection offers load bearing support components to suit both 90o bay windows and multifaceted bays. Using our versatile bay posts, a variety of combinations can be assembled to achieve the correct angles.