Polyroof systems can be applied to a wide range of surfaces:
No matter the size, shape or complexity of a roof, Polyroof's liquid systems will form a seamless waterproof membrane across the entire roof area. The finished surface is tough, flexible and impervious to water. With proven lifespans in excess of 25 years. Polyroof systems are the number one choice for all flat roof and balcony applications.
The highly flexible yet tough membrane can be used on any sized roof without the need for expansion joints. Rapidcure technology is used for fast, disruption-free installations.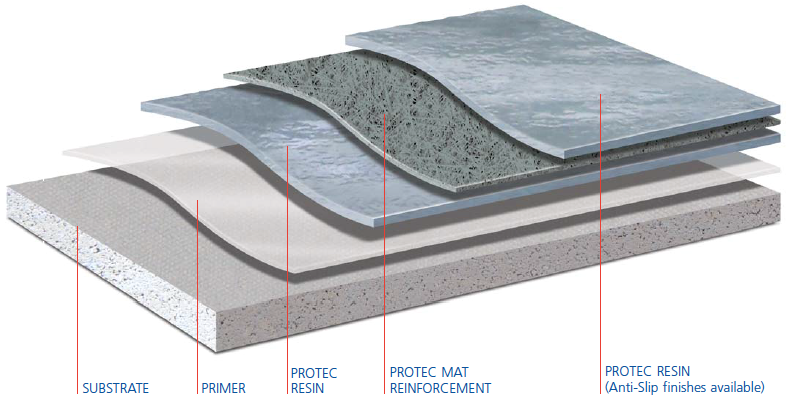 PROTEC IS A DURABLE, SEAMLESS, COLD SYSTEM APPLIED LIQUID ROOFING SOLUTION
Protec is a cost-effective, fast curing polyester roofing system. The system is cold applied and fully reinforced providing a tough yet highly flexible seamless membrane. The system rapidly becomes weather resistant allowing fast access in situations where foot traffic is required. The ease of application of the system enables effective waterproofing over complex or awkward detailing such as protrusions.
In most cases there is no need for stripping of the old roof, and therefore is ideal for projects that require a fast solution with minimum disruption. Where required, insulation can be provided in conjunction with the system to offer improved thermal performance for projects that demand the highest requirements in energy efficiency.
For balconies and walkway applications the system is finished with Poly-Finish MMA, a tough impact resistant yet flexible methyl methacrylate-based finishing coat. Used in conjunction with quartz sand aggregate, it has been specially developed to impart a highly wear resistant, anti-slip finish to the Protec system
FEATURES & BENEFITS – BBA and FM approved – 10 or 20 Year Guarantees – Durable finish – Choice of colours – Suited to any size of project – Quickly weather resistant – Seamless cold-applied liquid membrane.
The Protec Warm Roof System allows direct application to an approved Polyroof 'RES' Insulation board and, combined with a fast curing adhesive for the insulation panels, provides a much quicker installation than traditional methods.
KEY FEATURES
Vapour control layer
Excellent thermal performance
Reduced energy bills
Adhesively bonded or mechanically fixed
Direct application to approved Polyroof 'RES' Insulation
Cut-to-falls insulation available
185 GRP ROOFING SYSTEM
The 185 system is always applied to Polyroof approved plywood or OSB3 boards.
Refurbishments: Usually used on roofs involving strip-and-replace works.
New Build: Ideal for any new build timber roof applications.
Roof Designs: Ideal for use as part of a warm or cold deck roof design.
Balconies & Walkways: Available with a BBA approved extra tough anti-slip finish for trafficked areas.
Ideal for small to medium sized projects requiring an extra tough, durable and highly impact-resistant finish.
Extremely hardwearing and can withstand regular foot traffic without additional protection
Available in a wide range of colours and finishes.
Fire performance: Classified as BROOF(t4), the top rating achievable for a flat roof system
Guarantee 20 years.
The Breakdown – Warm Roof vs Cold Roof
A cold flat roof insulation requires more work, taking off old boards and replacing them and the roof surface. The thermal efficiency isn't as good as with warm roof insulation.
A warm deck roof is much easier to install, offers great thermal performance but adds height to the flat roof. As a result of the height difference, warm roofs cannot be used on balconies and flat roofs extensions with doors leading onto the roof. In these cases, a cold roof is a preferable alternative to warm roof insulation. Warm roof insulation ensures the entire roof structure is insulated, meaning a warm deck roof is more energy efficient than a cold roof.
While a cold roof may be an easy option when first creating a flat roof, if you're looking to insulate an existing flat roof it can be a very time consuming one.
Insulating an existing flat roof requires ripping up any existing roof surface to enable you to lay the insulation in between, this also means that the roof surface has to be replaced or redone, again adding to the complexity of the job.
Polyroof Approved Contractors
To maintain the highest standards of quality it is essential that Polyroof products are applied correctly. That is why Polyroof systems are only supplied and installed by contractors who are fully trained and licensed by the company to ensure consistent installation quality and high levels of service. Contractors' performance is regularly monitored and frequent installation inspections are carried out to maintain the highest standards. Training not only includes the theory of how the systems should be laid, but also involves on site supervision.